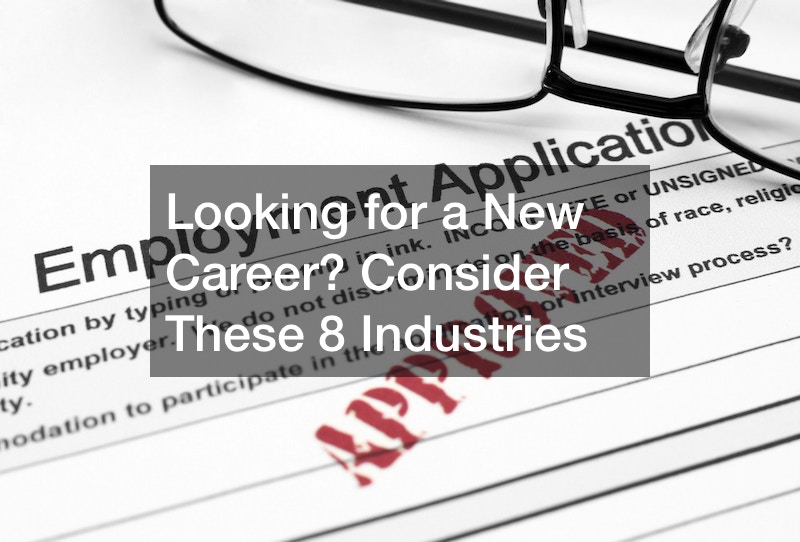 Looking for a New Career? Consider These 8 Industries
When deciding on your next career move, it may seem challenging to sift through all the current job listings. It may seem like there isn't an ideal job for you. However, there may be many types of jobs you haven't yet considered. Here are some newer jobs that may be just what you're looking for.
1. Health Care – Support for Addicts in Recovery
People who enjoy helping others often gravitate toward working in healthcare jobs. Becoming a doctor who specializes in working at a detox facility is one of the most helpful and interesting jobs. Detoxification facilities help people who want to be free from their addictions, during the time when the toxins of their addiction substances are being removed from their bodies. The doctors are at these facilities to ensure that the detoxification process is as safe and comfortable as possible for the clients.
Detoxification of the body must occur before the client can go to a rehabilitation center, where counselors will then assist them in facing the emotional components of recovery from addiction. Doctors are needed during the detox phase because some addictions, especially to alcohol, will cause severe withdrawal reactions, which will require additional medications to keep the client safe. During the withdrawal process, the client will also experience intense cravings for the substance they were addicted to, and the doctors can intervene when that occurs.
A detox doctor must undergo the same study path as any other doctor: college, medical school, internship, and residency. After those steps, a doctor would obtain a fellowship in addiction medicine, where they will work with and learn from the example of other detox doctors. When they complete the fellowship, they can apply for a certificate from the ASAM (American Society of Addiction Medicine.) Personality characteristics that would make someone the best detox doctor include compassion, patience, and a gift for communication.
2. Environmental Conservation – Discover Ways to Decrease Toxins
If you're dedicated to helping our planet, an ecotoxicologist is one of the interesting jobs that may appeal to you. Ecotoxicologists are responsible for studying the effect of toxins on the earth and in its waters. Many ecotoxicology studies aim to predict and discover the impact of toxins on the living species that eat them. From the fish who eat plankton to the people who eat those fish, these scientists are intent on finding toxic effects in each component of the food life cycle and ways to decrease those effects.
Ecotoxicologists sometimes concentrate on severely polluted bodies of water and the surrounding land areas. They try to trace the pollutant to its source and then attempt the elimination of those toxins. The fish and invertebrates living in those polluted waters are also tested to see if any available remedies can neutralize the toxic effects on those fish. While some ecotoxicologists are field workers, working from a base on research ships or by scuba diving, others remain in the laboratory doing testing or performing research about possible remedies for the toxins.
To become an ecotoxicologist, you need to get a bachelor's degree in environmental chemistry. The next step is to go to graduate school, where you obtain a master's in environmental toxicology. Cornell University and the University of Alabama at Birmingham offer this degree. The personality characteristics of this job would include a love of the outdoors, attention to detail, and curiosity.
3. Digital Marketing – Promotion of Lawyers and Law Firms
Advertising and promotion of companies has been an essential focus for most managers. To attract new clients, potential clients need to become aware of the company. Today, most companies concentrate a large part of their marketing efforts online. Digital marketing has become what the newspaper ad used to be, and companies often need help to find the best online marketing strategies.
One field that often develops a specialized online presence is the law. Many law firms prefer to allow their staff to concentrate on supporting and advocating for their clients by hiring a legal marketing company to promote their company through online marketing. With the severe nature of many legal matters, those digital experts need to balance the need for promotion with the concurrent need to convey an era of professionalism. The opportunity to work with lawyers from many types of firms makes this one of the most interesting jobs you might want to consider.
To become a legal marketing expert, you must first get a bachelor's degree in marketing. You would then gain one or two years of experience in the marketing field. Some people intending to get a job that takes their marketing experience and brings it to the legal world may decide to take courses at law school or to become a paralegal. A legal marketing worker's personality characteristics include attention to detail, self-motivation, and good sales skills.
4. Home Improvement – Keep Homeowners Safe
Some people don't have the means or desire to go to college, yet they still want to make a difference in people's lives. One of the most crucial safety features of a home is the roof. Therefore, one of the interesting jobs for those who want to help all kinds of people is to work at a roof service company. It's a secure and much-needed job since all homes will need roof contractors to do routine roof inspections and installations.
A roof contractor is responsible for assisting homeowners in selecting the right kind of roof for their homes. After selecting it, the contractor will work with a team of other roof contractors to safely install the roof. Today, roof contractors are required to change some of their strategies, as more homeowners are choosing to install solar panels on their roofs. These eco-friendly solutions will allow homeowners to realize savings on their utility bills and to do their part to protect the planet.
To become a worker in home roofing services, you need to obtain a license from your state. You also need a license from your municipality, if you want to extend your services to work with the roofs of businesses. To get the experience you need to apply for a license, you'll work with an experienced roofing contractor as a trainee – (an apprentice.) Personality characteristics of a roofer include the ability to work outdoors, manual dexterity, and the ability to work in high places without fear.
5. Forensics – Investigate Crime Scene Details
Many people who watch a TV show or movie about forensic scientists become fascinated by the excitement of forensic science. Like many other career fields, forensics has branched out and now uses computers to perform many of its essential functions. Therefore, one interesting job is working at a computer forensic company. These businesses combine the principles of forensics with computerized methods to investigate and retain the records of crime scenes.
As the world becomes more digital and many functions are computerized, there will be a growing interest in computerized forensics. Some of its jobs revolve around record maintenance, including Database Forensics and Email Forensics (which track and retain the emails of people of interest.) One of the growing categories of computerized forensics includes analyzing potential malware and safeguarding the forensic company's computer network.
To work in computerized forensics, you need knowledge of both computers and forensics. You would need a bachelor's degree in criminal justice and will also need computer experience. Some of the governmental companies that hire these workers would require a governmental security clearance. Personality characteristics for computerized forensics include an aptitude for computers, attention to detail, math skills, and patience.
6. Manufacturing – Design and Produce the Things People Need
Another category of job that may be ideal for people who don't go to college is the many types of jobs that are involved in manufacturing. Whether you work in a factory or a packing plant, those jobs are often easy to get, and you can be cross-trained for different positions throughout the factory. You can build things as tiny as gears for a watch, or as big as an automobile.
To give an example of one product manufactured in many forms, consider working for a place that would make a type of wire seal. These sealants protect wires from damage from air, water, fire, or other dangers. The safety aspect of such a seemingly small component makes this one of the more interesting jobs in manufacturing. Wire seals are made from plastic, aluminum, and wire. After they are made and securely packaged, they can be purchased at a DIY store.
Wire seals and similar protectant products are made in casting factories or other manufacturing facilities specializing in security seals. To begin working in a manufacturing company, you need to possess manual dexterity, attention to detail, and a work ethic to help you realize the seriousness of the job. A college degree is not necessarily required, except when you get to the management level. When you are making safety components, the monotony of the job is necessary – to ensure all those components provide the same measure of protection.
7. Sales – Sell People the Products They Want
Sales is a multi-faceted field, and many of its jobs are interesting jobs. People look to salespeople to help them find what they need, so there will always be a need for salespeople. Just as manufacturing spans the range from small parts to larger appliances, salespeople show people small items like fishing lures or larger items like vehicles.
Vehicle sales are among the most profitable sales branches, although the high prices make the sales challenging. One well-known vehicle designer targeting power sports enthusiasts is the Polaris company. A Polaris dealer has the advantage of its brand being renowned for making off-road vehicles, snowmobiles, and pontoons. Their quality is so respected that they are commissioned for military bases to make military vehicles.
Another type of conveyance that can be fun to sell is motorcycles. To work in motorcycle shops, you must be conversant not only with the quality of the bikes but with the culture of motorcycle riders. Motorcycle riders often understand their bike's mechanics and designs – so they aren't easily swayed by persuasive sales talk. Salespeople for any product – including these two types of vehicles – need good communication skills, product familiarity, assertiveness, and persistence.
8. Travel – Enabling Those Who Want to Explore
There's a vacation waiting for all of us and being part of one of the places that equip vacationers can be one of the interesting jobs you may consider. Working in the travel industry can mean anything from staffing the desk at a travel agency to answering the phones at an airline customer service line. Of those many jobs, some may seem less glamorous, but the contact with the clients can help even those jobs become rewarding.
For example, you may be a geocaching enthusiast and want to use your knowledge of the sport to sell needed equipment to other geocache enthusiasts. You may rent GPS device kits or other navigational software. Those products are often sold in stores that carry camping gear, or at a sporting goods store. You could create an online business specializing in GPS kits and other equipment meant for geocaching and camping.
If your interest or your sales preferences lead you toward selling larger items, turn your sales skills to promoting trailers for sale. Many people these days enjoy traveling the country in trailers. Some people have formed communities of those with RVs where they can socialize and support each other. The people who want to buy trailers seek the right equipment, so your sale will be focused on convincing them that the trailer you're selling is the right one for them.
As the world population increases and the needs of this larger number continue to diversify, there will surely emerge more interesting jobs. Think about the skills you have and the fields that interest you. If you're considering using an employment agency to search for a job, they may have a career aptitude test for you to take. If you look long enough, you may find a job as unique as you are.