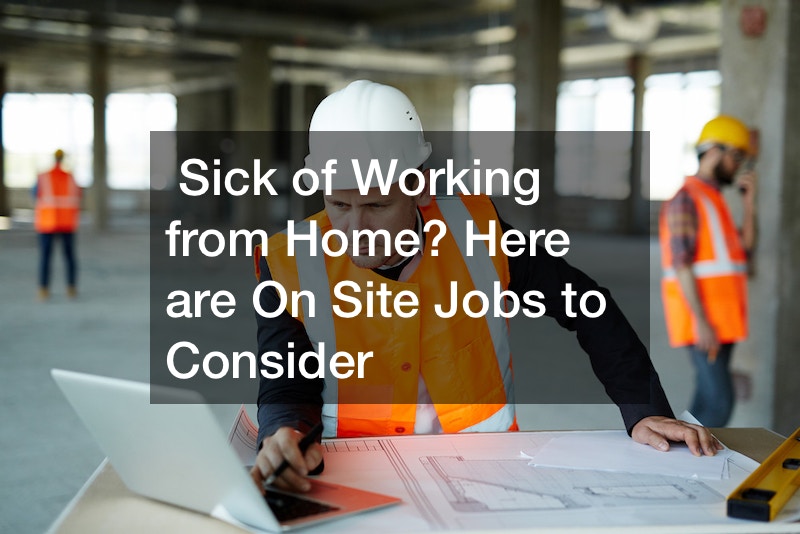 Sick of Working from Home? Here are On Site Jobs to Consider
Remote work became the new norm for many professionals as companies shifted to a work-from-home model in light of the COVID-19 pandemic. For a while, it was exciting to work in the comfort of your couch and not have to drive or commute to and from the office. While this arrangement may have its benefits, it also comes with its own set of challenges.
Some professionals struggle with productivity, as they are easily distracted at home. Others miss the social interaction and camaraderie of working in an office setting. And let's not forget about the 'Zoom fatigue' associated with endless video calls and virtual meetings.
If you are feeling sick of working from home, you are not alone. That's about to change, though. Here are ten on site jobs that will give you a change of scenery and break the monotony of remote work.
Get Into Real Estate
The commercial real estate industry never really works well remotely. Most home buyers want to visit and see the property before deciding on their next move. While virtual tours and online listings are now common, customers still prefer site visits. That means that on site jobs in the real estate sector are still plenty. The pay is fair, too. According to the U.S. Bureau of Labor Statistics, real estate brokers earned an average salary of $62,190 in 2022.
You can start as a junior real estate agent and build your career to become a realtor. If you have a knack for sales and love meeting new people, this could be an excellent option to explore. Ensure you research everything needed to join the sector in your state. Take up a course and get your license.
Learn Marketing
Marketing is among the most competitive industries. Companies are always looking for innovative strategies to grow their business. That means they need people who can help them do that. With the rise of digital marketing, this sector has opened opportunities for many professionals.
The sector offers lots of on site jobs that can get you out of your home office. You can work as a brand ambassador, market analyst, or even in sales and promotions. All you need is to learn and sharpen your skills. Ensure you know what the market needs and equip yourself with those skills.
For instance, learn and understand all revenue growth strategies, such as SEO, social media marketing, email marketing, and content creation. Companies will always need people with these skills to help them grow their business.
The best part about marketing is that you do not necessarily need a four-year degree to start. Many professionals have built successful careers in this field with certifications and online courses. Plus, the internet offers an endless stream of resources and learning materials to help you upskill.
Work in Mental Health
Another field that can get you out of your home office is mental health. Modern living has people living on the edge. There are too many high-pressure situations that take a toll on mental health. According to Forbes, over 21 million adults in the U.S. live with depression. You can take your chance and help people understand and overcome mental health issues.
Many clinics and organizations need on site workers to help patients. You can work in an OCD clinic, a depression center, or as a therapist. Even an addiction counselor can be a great way to give back to society.
The mental health sector is vast and has many opportunities for those passionate about helping others. Look for positions available in both public and private mental health institutions. You can explore job boards, government websites, and professional associations for job openings.
Some positions may require a degree in psychology or counseling, but there are also entry-level positions. Whatever the case, start by taking a course on mental health to gain the necessary skills. Some universities and colleges offer short courses, while other organizations, such as the Red Cross, offer certifications. From there, you can work your way up the career ladder.
Become a Firefighter
If you are someone who thrives in high-pressure situations and enjoys physical challenges, consider a career as a firefighter. These on site jobs involve responding to emergencies and protecting lives and property. You can be one of those heroes you see saving people.
To become a firefighter, you must meet physical and educational requirements. Many fire departments require applicants to have a high school diploma or equivalent and be 18 years and older. You must also pass written and physical exams and undergo extensive training. Once hired, you will continue with on-the-job training and attend regular drills and classes.
Many local fire departments have recruitment programs where individuals can receive paid training while working towards becoming full-time firefighters. Check with your local fire department for available opportunities. If you are flexible, you can move to other cities or states and look for these opportunities.
Besides responding to fires, firefighters also provide medical aid and respond to hazardous materials situations. They also educate the public on fire safety measures and conduct inspections to ensure compliance with fire codes. A considerable part of your duties will include liaising with businesses to offer installation and maintenance of safety systems such as a business fire sprinkler system.
Firefighting is a rewarding career that allows you to make a difference in your community. You get to work with a team and often form life-long bonds with your fellow workmates. As an essential service, the demand for firefighters is constant, making it a stable career choice.
Teach Kids
Teachers are always in demand. In fact, according to the Washington Post, there has been a shortage of teachers, and it keeps getting worse. Here is your opportunity. With the right skills, chances are you will get a job before completing your degree.
States such as West Virginia had a 50% spike in teaching job vacancies in 2023 from last year. The situation is similar in most other states. While this sounds bad for the profession, it also means you can easily find on site jobs at public or private schools. Remember that many employers will be willing to offer lucrative packages to attract and retain your talent.
Your job at a school can range from being a teacher's aide, substitute teacher, or even a tutor. There are also many subjects to cover, meaning you have even more opportunities. As long as you have the necessary qualifications and skills, you are in line for one of the most crucial jobs in society. To become a teacher, you need a bachelor's degree in education and a teaching license from the state. You also need a few certifications that vary depending on where you intend to work.
Work With Animals
Working with animals can also be an excellent career. Pets are a significant part of many people's lives. According to Forbes, about 65.1 million households in the U.S. own a dog. Another 46.5 million households own a cat.
What these numbers mean is a sea of on site jobs for you to explore. The animal care industry offers many opportunities to work with pets and other animals. You can work at an emergency animal clinic, a pet daycare, or a veterinary hospital.
Another exciting field is animal behavior training. Here, you can help pet owners understand their furry friends better and promote positive behaviors. You can take short courses in animal behavior and psychology through online platforms such as Coursera and Udemy.
Working with animals doesn't end with pets. There are opportunities in sanctuaries and zoos to work with exotic animals. You can also become a wildlife biologist, studying and protecting various species in their natural habitats. However, this field requires more extensive education and specialized training. Take time to research the requirements and available opportunities in your area.
Become a Construction Worker
Construction is always going on in tough and good times. As a result, there's a constant demand for skilled construction workers. For example, according to Statista, the industry employed nearly eight million people in the U.S. in July 2023 alone. That means there are plenty of on site jobs for you, whether you have specialized skills or not.
Construction workers can specialize in various fields, such as plumbing, carpentry, and masonry. You can also become a general construction worker and learn multiple skills as you go along. Even if you start with basic skills, there will be opportunities to learn and grow. The best part is a college degree is optional to kick-start your career.
You can start at a trade school or simply learn on site from experienced workers. You can also take certification programs to enhance your skills and increase your job prospects. With the demand for new infrastructure constantly growing in urban areas, you'll always have opportunities.
Moreover, the construction industry is diverse. You can work on residential homes, commercial buildings, or infrastructure projects such as bridges, dams, and roads. If you have creative skills, this sector also has a space for you. Home addition and renovation allow you to showcase your creativity while providing a valuable service to homeowners.
Help The Elderly
Assisted living care has steadily risen since the early 2000s in the U.S. According to Grand View Research market data, the industry was worth 91.8 billion in 2022. It will likely expand by a 5.53% annual compound growth rate until 2030.
A positive growth means more opportunities in an assisted living facility, as a caregiver, or even providing home care services. These on site jobs require compassion and patience. They can be incredibly fulfilling. You form meaningful relationships with seniors, help them maintain independence, and give families peace of mind.
With the aging population rapidly increasing in the U.S., the demand for assisted living care is bound to keep growing. With proper training and certifications, you can work your way up from an entry-level position to a managerial role. You'll also have opportunities for further education and training in specialized areas such as dementia care or hospice care.
Moreover, you can gain valuable skills and experience working in various aspects of assisted living care. They can open more opportunities to become a consultant or start your own senior care business. But evaluate yourself before you commit to this job. It requires a high level of patience and empathy.
Flex Your Art Skills
Creativity is a valuable tool in the business world. Whether it's designing logos, custom signs, or creating marketing materials, businesses are always in need of creative professionals. If you have an artistic edge, you can offer your services to industries such as fashion, advertising, and media.
If you have your way with design, you can become a custom sign maker. Custom signs are in demand at events, businesses, and even personal use. With the right strategies, you can grow your client base and create a successful business.
As an artist, you can move around and work on different projects. You can collaborate with other artists, participate in art fairs, or teach classes. Your income potential depends on your skills and how well you market yourself. The key is always to improve your skills and stay updated with trends in the industry.
Fight For The Law
If you are passionate about justice, becoming a criminal attorney might be the right fit. The legal field offers various on site jobs, from paralegals to judges. However, becoming an attorney requires extensive education and training.
You'll need a bachelor's degree in law. After that, you need to pass the bar exam to practice. While this is a rigorous path, it is gratifying. You get to protect people's rights, seek justice for victims, and make a difference in society.
The pay for criminal attorneys is also quite impressive, with a median salary of $122,960, according to the U.S. Bureau of Labor Statistics. You can work in a law firm or start your practice. You can even specialize in different areas of law, such as family law, corporate law, or personal injury.
While remote work has risen dramatically in the last four years, on site jobs are still prevalent and provide numerous opportunities. They won't end anytime soon. With the above options, you can explore different industries and find a job that aligns with your skills and interests.