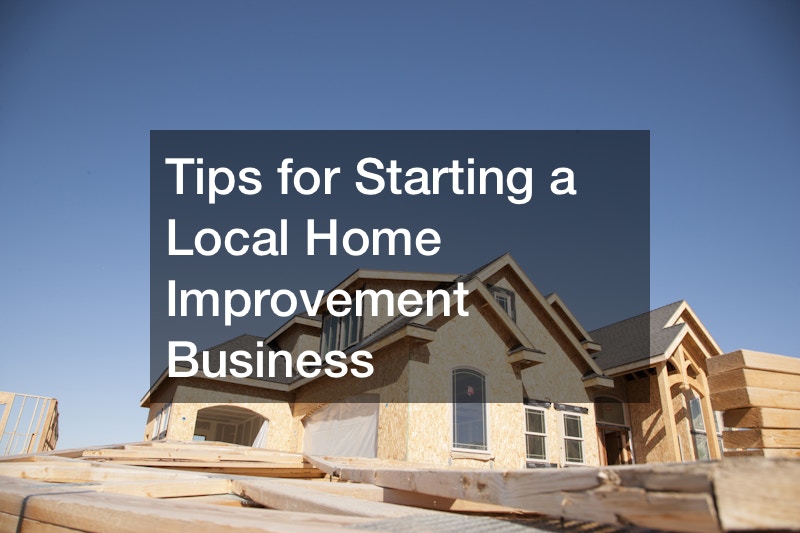 Tips for Starting a Local Home Improvement Business
According to statistics from Fundera, up to 50% of small businesses fail within the first five years. As a result, trying to set up a local home improvement business can be a scary experience, especially when you don't know if you'll succeed. However, with the proper planning, you can launch your venture and grow it steadily till it becomes a success.
Tips on How to Start and Run Your Home Improvement Business
Are you uncertain about your plans to start a local home improvement business? Don't worry! It's a common feeling among many first-time business owners. However, with the tips below, you can overcome your fear and start your enterprise with as few hassles as possible.
Come Up With a Great Business Plan
According to the U.S. Small Business Administration, a business plan is vital for your enterprise's successful start and growth. That's because it acts as a roadmap for your new venture, which helps you reach various desired milestones. Therefore, one of the top things to do when starting a local home improvement business is to write and refine your plan.
When creating a business plan, one of the first things to decide is the type of home improvement services your business will offer. For example, you can provide roofing services, interior design solutions, or focus on exterior improvements. In addition, you must develop a pricing strategy to help you estimate your business's revenue and profit margins.
The target market is another vital element to include in your business plan. Before you launch your enterprise, you must decide who you'll sell your services to. In your case, this can be local homeowners who want to repair or renovate their houses. You can also offer your services to people building new homes; to help get their houses ready for a move-in.
Lastly, your business plan should feature other vital elements like vision, goals, management, staff, financial strategy, funding, competitors, etc. The good news is that there's no right and wrong way to write a plan as long as you develop a sound strategy. And should you encounter problems later, you can refine your plan, thus giving it more clarity.
Get The Necessary Funds
According to the U.S. Chamber of Commerce, funding is one of the greatest challenges many small business owners experience when starting. Unfortunately, it can be a devastating hurdle, quickly thrusting your enterprise into crippling cash flow issues. Therefore, you must secure the funds you'll need to launch your home improvement business and keep it afloat until you earn revenue.
One of the top ways you can fund your venture is through small business start-up loans. These are offered by institutions such as banks, credit unions, community banks, and SBA-guaranteed lenders. Other options include getting a personal loan, going to online lenders, and remortgaging your home.
Besides loans, you can find several other creative ways to fund your business. For example, you can use your savings or ask for a loan or investment from family and friends. You can also get funding or investment from venture capitalists and angel investors. Crowdfunding is another popular idea that could help secure the funds you need to launch your business.
Create a Good Financial Plan
Financial mismanagement is a poor practice that you should avoid at all costs. But have you ever wondered just how dangerous it is? According to SCORE, as many as 82% of small businesses fail due to poor cash flow management. Therefore, if you want your local home improvement business to succeed, you must develop a good financial strategy.
One of the top ways to manage your finances is through budgeting. Therefore, you must create a budget for all expenses and keep track of them to ensure you don't exceed the limit. And when you do, you must take necessary action, for example, cutting down on some expenses, acquiring additional funds, or improving revenue generation.
Besides budgeting, you must keep clear records of all your business finances. This includes sales, expenses, cash transactions, debts, payroll, etc. Of course, keeping records can be a daunting task if you don't have the necessary skills or experience. Therefore, you can hire professional bookkeeping and payroll services to assist you in this area. Then, you can monitor the records regularly to familiarize yourself with (and stay on top of) your business' finances.
Hire Professionals For Your Business
Running a local home improvement business involves a lot of aspects that you can't handle efficiently on your own. Therefore, you must bring in professionals to assist you in your venture. Failure to do so can result in you burning out or, worse, mismanaging your business to its death.
One of the top areas you'll need to hire professionals is management. For example, you need professionals like a bookkeeper, an accountant, and a tax expert to handle your business finances. You can also hire HR managers for recruitment and an office manager to run your office space. Lastly, you might also need employees to operate a call center where customers can call for service requests, inquiries, or complaints.
Besides management, you must hire professionals who can protect your business. A good example is a business attorney who can help you with all the legal processes of starting and running your business. In addition, they can defend your enterprise from any arising lawsuits during its operations. Apart from an attorney, you should also work with an insurance agent to get the proper coverage for your business, thus protecting it from any eventualities.
Lastly, before launching your home improvement business, you need to hire contractors who will offer services to your clients. The type of professionals to hire will depend on your services. For example, you'll need skilled, experienced, and licensed electricians if your business will offer electrical solutions.
Market Your Services
According to a survey by CBInsights, poor marketing is one of the major causes of startup failure, affecting up to 35% of small businesses. In addition, another 20% of ventures end up folding due to stiff competition. Therefore, marketing is another top area to focus on if you want your home improvement business to be successful.
The best part about marketing is that you can employ many techniques to reach your target customers. For example, you can use a website to establish an online presence for your business. Other top methods include social media engagement, email marketing, SEO, and Google adverts. For the best results, you can hire a digital marketing firm to offer you comprehensive digital solutions.
Apart from digital marketing, you can use local marketing techniques to promote your business to the local market. For example, you can use business signage to direct people to your office or online platforms. Another excellent idea is handing out fliers to people in the local community.
Lastly, you could also utilize local digital marketing techniques to target potential customers near you on the internet. For example, you can create a Google business profile allowing your business to pop out when people search for your services. Another excellent idea is advertising your services on Yelp and neighborhood apps.
Build Relationships With the Local Community
Community relationships are vital when planning to launch a local home improvement business. First, local homeowners will likely be your top clients, so it pays to be in good books with them. Secondly, strong community ties can increase your business' trust and credibility, making it easier to land customers or good talent.
You can use several strategies to build meaningful community relationships. An excellent idea would be to organize a grand opening and invite homeowners, business owners, and other individuals in the local area. You can then hire a business event catering company for food and drink, ensuring everyone has a good time. At such an event, you'll get to know your neighbors, and chances are you'll also land a few long-term clients.
Another excellent idea for building stronger community ties is to offer free or discounted services. This can generate interest in your business and earn you loyal customers. On top of that, the people you offer your services to are likely to refer you to other homeowners when you do a good job, leading to more business opportunities.
You can find many more opportunities for strengthening your business ties with the local community. For example, you can participate in events (festivals, fairs, etc.), sponsor events (like community runs), and volunteer during community events (food drives, cleanups). These activities can help your business become a huge part of the community, leading to more brand awareness and a loyal local customer base.
Top Ideas for A Local Home Improvement Business
The above tips can help ensure the successful launch and running of your local home improvement business. But which is the best type of venture to start? Below are some top business ideas for the home remodeling industry:
Roofing Business
Roofing is one of the top ideas you can consider when looking to start a local home improvement business. It has a simple business model and thus can be easier and less expensive to launch. On top of that, you can offer many services under your roofing business, from repairs, inspections, restorations, replacements, and upgrades.
However, starting a roofing business does come with a few challenges, the top one being finding skilled and licensed roofing contractors. According to the Roofing Academy, finding and retaining talent is a big challenge due to the high demand and shortage of qualified roofing contractors.
Plumbing Business
If you're searching for home renovation services to offer customers, plumbing is another excellent idea. A plumbing business has a simple model, meaning low startup costs and few hassles. In addition, you can build a large and loyal local client base, which can be fantastic for your enterprise.
On the downside, you must get licensed to offer plumbing services. If not, you'll need to hire skilled, licensed, and insured contractors who can work for your business. And besides labor, you also need to invest in quality tools and equipment, which can be expensive.
Mold Remediation Business
Mold remediation is another excellent idea for a local home improvement business. Since mold inspections and removal are need-based services, you'll never lack customers. In addition, you can find a large market for your services, from old buildings, new homes with poor construction, or properties that have suffered water damage during severe weather.
However, getting into mold remediation can be challenging. First, you (and any contractors you hire) must be licensed and certified by local and state authorities. Secondly, you must invest in expensive mold inspection, testing, removal, and cleanup equipment. Lastly, you must invest in protective equipment and stringent safety protocols to protect your staff during mold remediation.
Landscaping Business
Landscaping is another top service your home improvement business can offer. It's an excellent sector to invest in due to the high demand for landscaping services; every homeowner with a yard is a potential client you can target. On top of that, it has fewer startup costs as you don't need to invest in expensive equipment.
Unfortunately, there are also a few challenges when getting into landscaping. One of the top ones is the seasonality of the business, which means that you'll have very few customers during the winter season. Secondly, the landscaping industry has stiff competition; thus, you need a lot of investment in marketing to grow your business.
Flooring Business
Offering flooring services is another excellent idea for a local home improvement business. That's because you can provide various services, from flooring installation, repairs, restorations, and replacements. Also, you can offer additional solutions like flooring measurement service, carpet installation, and carpet cleaning.
On the downside, flooring work can be demanding, so you'll need to hire experienced contractors, especially if you want to land big projects. Also, you might need to invest in expensive equipment, training, and certification for your employees, depending on which floor materials you'll be dealing with.
Starting a local home improvement business can be difficult; it requires a huge investment in money, time, and resources. However, it can be a rewarding opportunity. And with the above information, you can enjoy a smoother experience when launching your enterprise.